Description
UPC:608410860872

Oasser Portable Air Compressor Pump Tire Inflator Electric Air Infaltor with Digital LCD LED Light Auto Tire Pump 12V DC 150 PSI for Car Truck Bicycle RV and Other Inflatables P6
The tire pressure of your car is lost as time goes by.
Tire pressure varies with temperature.
Low pressure leads to increase of fuel consumption.
Oasser P6 Digital Tire Inflator will solve the above perplexities of yours!
Questions and Answer
Specification
– Voltage: DC 12V
– Current: 10A
– Max Air flow rate: 25LPM (4-6 minutes to inflate a tire with the size of 185/70R14)
– Max Inflatable Pressure: 150PSI
– Pressure Gauge Accuracy: ±0.5PSI
– Working Temperature: -20℃+60℃
– Weight: 2.36 pounds
– Power cord: 3m
– Air hose: 20.87inch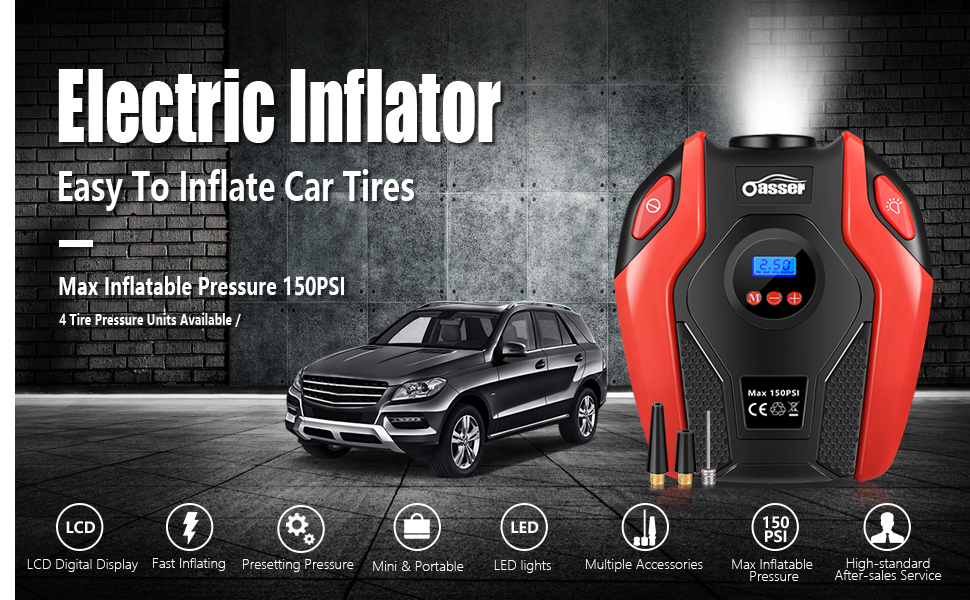 Multifunctions of Oasser Tire Inflator
Pro:
Automatic cordless tire inflator
Quick and easy to use
Fits any air valve
LED light & Large LCD display and one button to infalte your items
Powerful air compressor 150psi
Compact, light weight design
Preset pressure. It's a great air pump and excellent for keeping the proper air pressure in your automobile tires.
Portable Compact and Powerful Air Compressor!
ღ Easy to inflate car tires and other infaltables
ღ LCD digital display,to monitor the health of the tire pressure at any time
ღ 4 tire pressure units available: PSI, KPA, BAR, kg/cm²
ღ Preset tire pressure,when the tire pressure reaches the preset value, the air compressor stops working automatically
ღ Max Inflatable Pressure 150PSI
ღ Wide range of uses, come with accessories for car, bicycle, motorcycle, basketball, inflatable toys
ღ Equipped with bright and long-lasting LED lights for your night use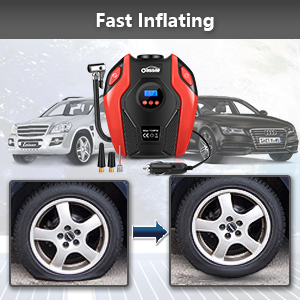 For Car Tires
For emergency to inflate a flat tire 3 Meters Long Power Cord to a easy inflation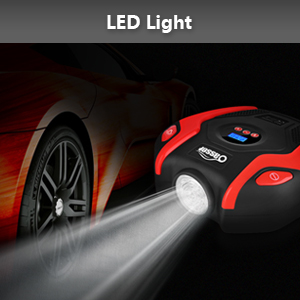 LED Light
It is convenient for day and night use within bright LED light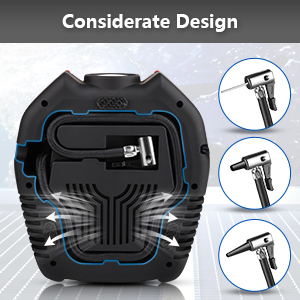 Storage slot
Storage the air hose and extra heat dissipation outlet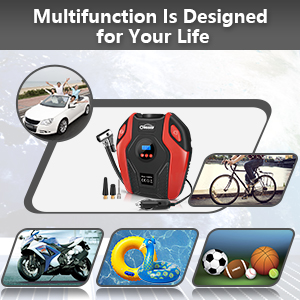 Other Applicable Items
For Motorcycle, bike tires,
For small sailing boats,
For swimming rings,
For kinds of balls
For other inflatable toys, etc.
Note: In the process of inflating, there will produce the heat that generated by high pressure, please pay attention to prevent burns, and It's better to cool it down for 3 minutes after continuous working for 10 minutes.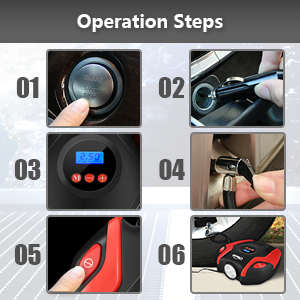 Operation Steps
Plug into cigarette lighter
Press desired pressure
Press the buckle tightly
Press power button to start
Plug the power cord into the car (or ship) cigarette lighter
After the LCD display is activated, please confirm that the pressure value is 0. Press the "M" button to select the air pressure unit that you need
Connect the trachea to the schrader valve of the tire to ensure there is no air leak and then pressed the buckle tightly
Preset appropriate pressure through "+" and "-" button. In the setting, the pressure will keep flashing. After setting the required value, LCD will automatically confirm it after flashing, or you can press the "M" button to confirm immediately
When the tire pressure reaches the preset value, the air compressor stops working automatically In the process of inflating, if you want to stop inflating, you can press the air pump switch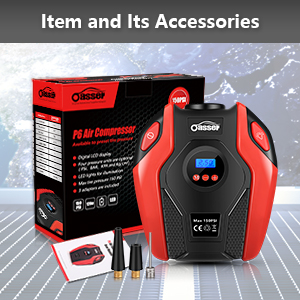 Package Include
1× Tire Inflator
1× Power Cord 118inch
1× User Manual
1× Air hose 20.86inch
1× Presta Valve
1× Ball Needle