Description

Are you facing a big cleaning job at home?
Whether you' re freshening up your home' s siding, getting your back deck and patio looking clean for parties, or make your neighbor jealous with your tidy driveway, Oasser electric power washer may be all you need to lighten the load.
Powerful cleaning features make it easy to tackle tough home, outdoor and car cleaning projects.
Oasser 3046 PSI high pressure washer will be your best partner, giving your home and garden a fresh, revived look!.
Oasser Electric Pressure Washer CW8
5 Quick-Connect spray tips (0º, 15º, 25º, 40º and soap) makes cleaning jobs more effective.
Red — 0 degrees – areas that are high and hard to reach; clean crevices in sidewalks or driveways.
Yellow — 15 degrees – use on concrete, brick and other hard surfaces with stubborn stains.
Green — 25 degrees – use on painted surfaces, wood siding, fences and lawn mowers.
White — 40 degrees – use on windows and screens.
Black — soup – a low-pressure foam nozzle for spraying detergent.
Note: Only the black nozzle is a low-pressure foam nozzle for spraying detergent, and the other nozzles are high-pressure nozzles that do not generate foam.
Operation Steps of Squeeze Out / Drain Out of Extra Water And Air :
Before use:
Connect the water inlet hose, and turn on the water tap;
Turn on the power switch of the machine;
Unlock the spray gun trigger;
Long press the spray gun trigger for seconds, to squeeze out the air until the water is coming out, then install the spray wand.
After use
Shut off the water tap, and disconnect the water inlet hose;
Unlock the spray gun trigger and press the trigger to squeeze out the water pressure and residual moisture water;
Turn off the power switch of the machine;
Pull out the mains plug;
Store the pressure washer properly.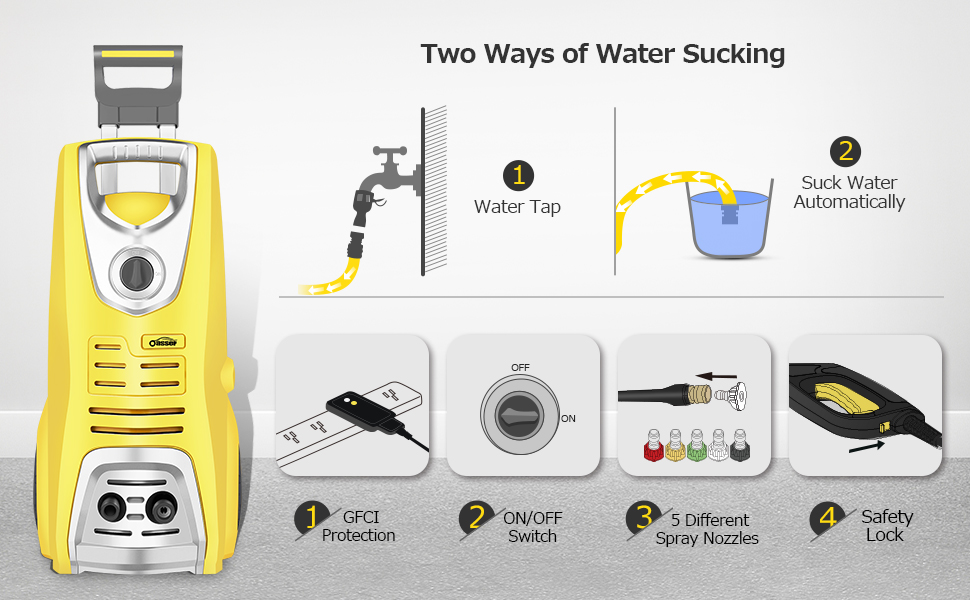 ATTENTION:
The rated working pressure of the pressure washer electric is 1828 psi, which is sufficient for various cleaning tasks. This pressure car washer can also generate pressures up to 3046 psi. (greatest pressure)
When the spray gun trigger is pressed for the first time, there may be some air in the gun and high-pressure hose, so the pressure will not turn on immediately, which is normal.
Whatever the way you choose to get water, we recommend you can long press the trigger for about ten seconds after starting up the high pressure washer, to squeeze out the air until the water is coming out, then install the spray wand. To better protect the machine, this step should also be done when the cleaning job is finished.
When sucking water automatically, the maximum distance between the car washer machine and the source of water should be no more than 2M.
If the electric power pressure washer has no water for more than 2 minutes after starting, please turn off the power switch to avoid damage to the pump.
lease ensure that 30cm(1ft) far away from the vehicle tyres when using the car pressure washer for vehicle cleaning, to avoid getting your tyres damage or explosion.
When installing the water inlet hose adapter, please make sure that the size of your water inlet hose is the hose with G3/4 thread of British standard. Then be sure that both ends of the water inlet hose adapter must be screwed tightly.
Especially note that there must be no looseness between the black part and the aluminum part of the water inlet hose adapter, or it will cause leak of water.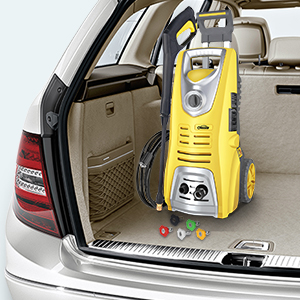 Oasser Electric Power Washer CW8
Offer the right solution for every cleaning task!
Max. Pressure: 3046PSI (210bar)
Flow Rate: 1.85GPM (420L/h)
Motor Power(Rated): 1800W
Water Inlet Temperature (max) : 104 degrees Farenheit
Waterproof Grade: IPX5
Dimensions: 12.2*12.2*22.4 inches
Weight: 20.44lb
Working temperature: 5-50°C
Max. Flow temperature: 40°C
Max. Water inlet pressure:0.4Mpa
What You Get
1 x Pressure Washer
1 x 35ft(10.67M) Power Cord with GFCI
1 x Water Inlet Coupling
1 x 16ft(5M) High Pressure Hose
1 x Spray Gun
5 x Spray Nozzles
1 x 200ml Removable Detergent Tank
1 x Manual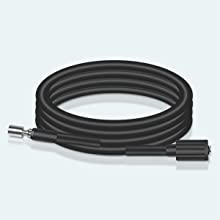 16ft High Pressure Hose
A 16-foot flexible hose makes for easy cleaning and storage, and is of sufficient length for more convenient operating flexibility during the clean process.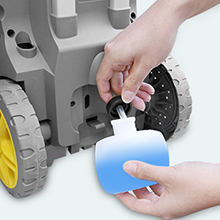 Removable Detergent Tank
Built-in 200ml removable detergent tank (Using detergent if necessary), it makes your cleaning tasks easier.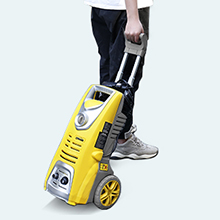 Easy to Move and Store
The car washer machine is designed with a 2-wheel system and telescopic handle for excellent portability and mobility, allowing you to pull it easily and comfortably.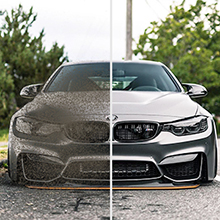 Easier and Faster
Oasser electric pressure washer that will help you tackle most small, medium and heavy-duty cleaning jobs, get your cleaning chore done easier and faster.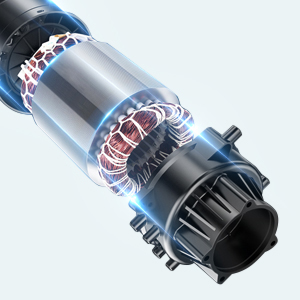 Powerful Motor
A powerful 1800 W copper brush motor delivers 3046 PSI at 1.85 GPM for maximum cleaning force, blasting through tough dirt and grime in seconds.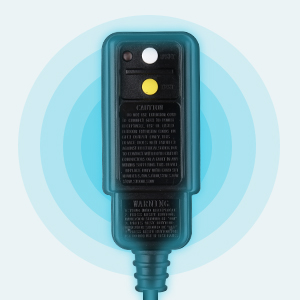 GFCI Protection
35 ft power cord with GFCI protection for safe use on all exterior outlets provides more safety features.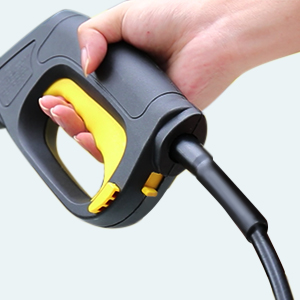 Total Stop System (TTS)
Power washer features Total Stop System (TSS), which automatically shuts off the pump when the trigger is not engaged to save energy and prolongs pump life.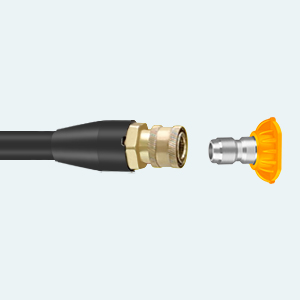 Quick-Connect Spray Nozzles
Wth the function of Insert-and-Use, the spray nozzle can be inserted into the spray wand very quickly, which is very flexible and convenient for use.