Description

No TETHERING, NO PLUGGING, for Quick and Effective Cleaning
No more being tethered to a socket. No more back bending. Cutting the wire means cleaning takes less time.The compact and portable design makes it ideal for cleaning up light spills around the house, getting into crevices in cars, and other relatively small jobs. It is also lightweight and won't cause excessive fatigue. Get a cordless handheld vacuum, enjoy the ultimate portability. It will definitely be a good addition to your cleaning machines!
Oasser Cordless Lithium Ion Handheld Vacuum
Oasser cordless handheld vacuum, built with rechargeable lithium battery, is lightweight and can run for 20 minutes for a 4-hour charge. It includes a washable stainless steel HEPA filter, crevice tool, brush nozzle, extension hose and a 0.6 litre capacity. Our hand vac is a great solution not only for small messes and tricky surfaces such as stairs, furniture, quick cleanups in the car, but also wet and dry spills.
Questions and Answer
Questions and problems are answered within 24 hours
Commented by buyers
This handheld vacuum gets the job done! Really good suction power makes cleanups a breeze, whether it's car or home. Emptyung and cleaning the filter is literally easy as the touch of a button. Many attachments and carry bag included too.
I absolutely love this handheld vacuum. It's very convenient when my kids spill things in my car and I can clean it up quickly. I dont have to rush to car wash to vacuum a small area. It's also good for small areas in the house. It's not heavy and the carrying allows for easy storage. It has a pretty good battery life and I don't have to worry about buying batteries.
Used it to clean the interiors of my car. The vacuum is powerful enough to pull all the visible dirt and debris out of the car mats et all. the attachments are useful too, was able to use them to reach corners and in between the seats and back of the seat.
I ordered this vacuum because I have 3 small children and lots of crumbs in my car from them- I wanted something easy a quick to clean- this vacuum does the trick! So easy and compact. It does the job well! Easy to use and easy to store..
Commented by buyers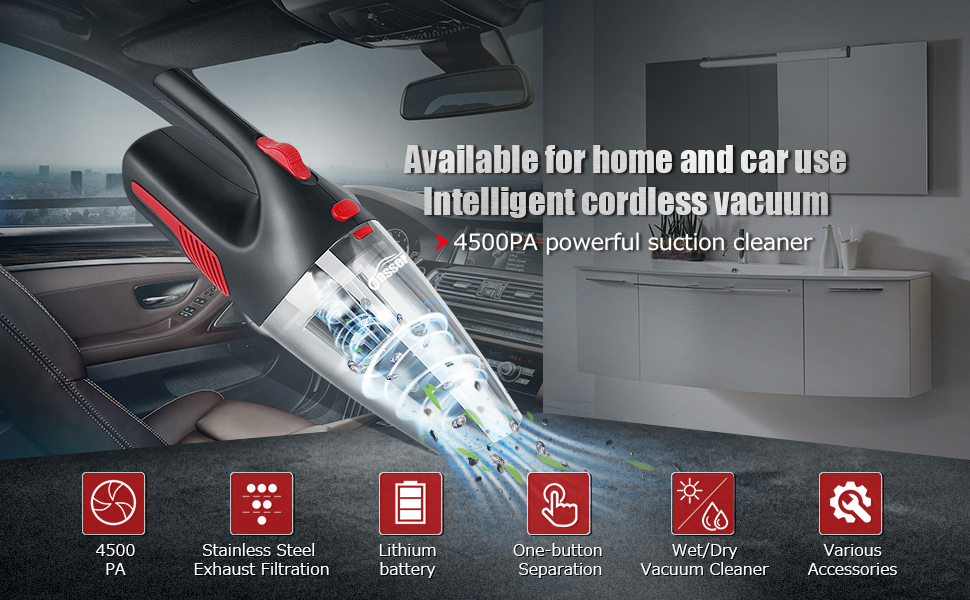 Characteristics Stainless Steel exhaust FiltrationWet/Dry vacuum cleaner
Specifications:
Run time: 20 minutes
Charge time: 4 hours
Battery: 2000mAh Lithium-ion, rechargeable
Power consumption: 100W
Vacuum: 4500PA
Low noise: ≤72dB
Dimension: 12.6*3.86*4.7inch
Weight: 1.78 pounds
Accessories included: crevice tool, brush nozzle, extension hose, package bag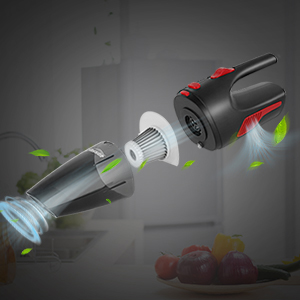 Why choosing Oasser V1 Handheld Vacuum, here's the features:
Built-in 2200mAh High Lithium Battery Capacity, the car vacuum cleaner is cordless and light and portable, which can work continuously for up to 20 minutes after fully charged.Use it in your garage, kitchen, bedroom and car.
Powerful Suction Cleaner 4500PA, good for daily quick pick up pet hair, paper debris, food residue, particles, unseen dust buster motes, etc.
Equipped with extension pipe, crevice nozzle and brush nozzle and other accessories. easily absorbs narrow gap and unseen dust buster motes in the sofa, cushion, etc.
Stainless Steel Hepa Filter replaces the ordinary filters, washable, reusable, convenient and recycle.
The vacuum cleaner supports dry/wet function, which can effectively suck out dust and overflow water stains, Please note: Do not use it directly for absorbing liquid or putting in liquid
Mini compact but high capacity, it can be mastered by one hand and easy to operate.The vacuum can hold 600ml dust which means you can complete a deep car cleaning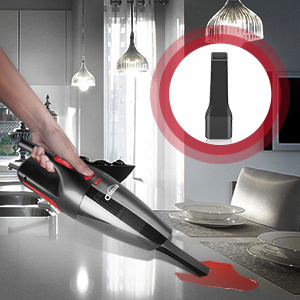 Crevice Nozzle
The crevice nozzle can get into hard-to-reach nooks and crannies to tackle tricky messes, including wet spills.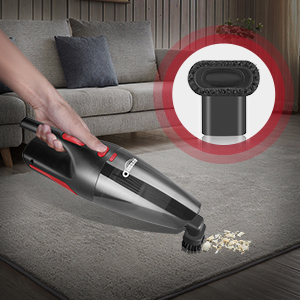 Brush Nozzle
The brush nozzle can remove pet hair from upholstery, carpets, and from your favorite bedding.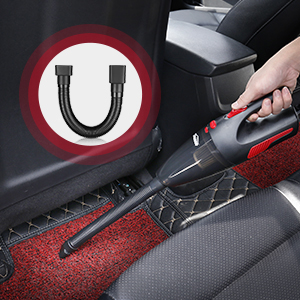 Extension Hose
The extension hose is useful for getting into spaces like car seats, window sills and tight corners.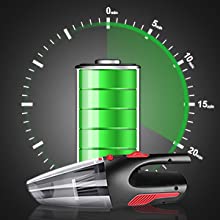 Large Capacity Battery
Built with 2000mAh Lithium-ion rechargeable battery, the hand vacuum can last up to 20 minutes on a single charge of 4 hours.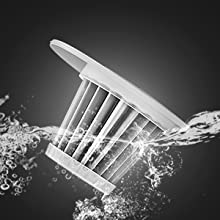 Washable HEPA Filter
The stainless steel HEPA filter is washable, easy to clean and reusable. It is more powerful and can last longer, compared with those traditional filters.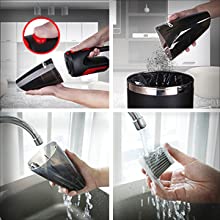 How to Clean the Filter
Press the cover switch to take off the cover then clean the filter. Note: Please clean the filter after each use.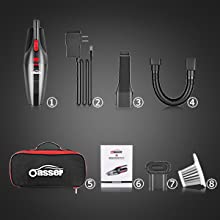 Package
Vacuum Cleaner x 1
Stainless Steel Hepa Filter x 1
Crevice Nozzle x 1
Brush Nozzle x 1
Extension Hose x 1
Charger x 1
Manual x 1
Package Bag x 1