Description

Caution: Please read
Apply to DC 12v-24v battery, do not use batteries that exceed 24V.Compatible with Qi non-compatible models: Sony Xperia XZ3, Xperia XZ2, AQUOS R3 and other models with charging coils on the bottom of the device will not be compatible.Turn the switch off when not in use.
If desired, please refer to the video on the page before installation.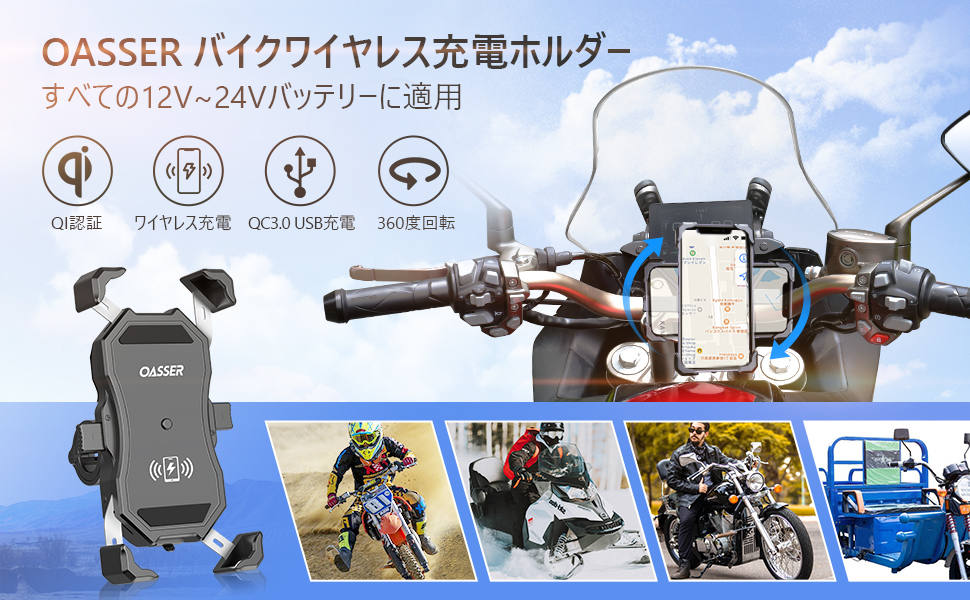 Oasser M3 Motorcycle Wireless Charging Holder, Wireless Charger, Qi + USB Charging, Easy DIY Installation
With Qi wireless and QC 3.0 fast USB charging function, you can charge it anytime and anywhere.Never worry about your phone/GPS power off while you are on the road!
Compatible Car Models: Compatible with all DC 12V – 24V batteries; Compatible Handlebars: Thickness: 0.5 – 1.0 inches (12.7 – 25.4 mm); Smartphone Size: 4.7 – 7 inches (65 – 90 mm); Height: 5.1 – 6.9 inches (130 – 175 mm); Thickness: 0.5 inches (1 mm); Wireless Detection Distance: IP6 inches (8 mm); USB Output: IP6 inches (8 mm).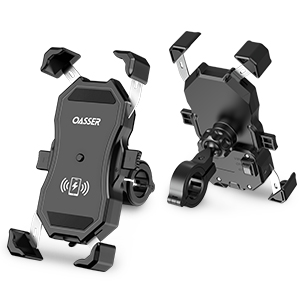 Why choose Oasser Bike Qi+ USB Charging Holder?
Superior Design
Mechanical stainless steel arm fully encased design with aluminum alloy bar mount cover and USB port 360 degree rotating ball joint 15W Qi wireless charging chip
Easy to install and remove with one hand
Depending on your smartphone, press the button in the middle of the holder, and the mechanical structure automatically locks the smartphone.Press the telescopic release switch on both sides.It can be removed with a single touch.
Qi + USB charging
Qi Wireless Charging: Supports up to 15 W (Compatible with Qi wireless charging 15 W / 10 W / 7.5 W / 5 W ).
Not compatible with iPhone 11/11 Pro/11 Pro Max/iPhone XS/iPhone XS Max/iPhone XR/iPhone X/iPhone 8/8Plus/iPhone SE2Samsung Galaxy S10/S10+/S9/S9 Plus/S8/S8 Plus/S7/S7 edge/Note8 model: It will not work with devices that have a charging coil underneath.
QC3.0 USB Charging: Most models with 4.7 to 7 inches
USB charging cable is not included.
Wide Variety of Accessories
Main unit + 5.9 ft (1.6 m) cable
Bar + Mirror Mount
Japanese instruction manual
Hex Wrench
Fuse
Adjustable rings x 3
Tie wrap x 2
rubber mat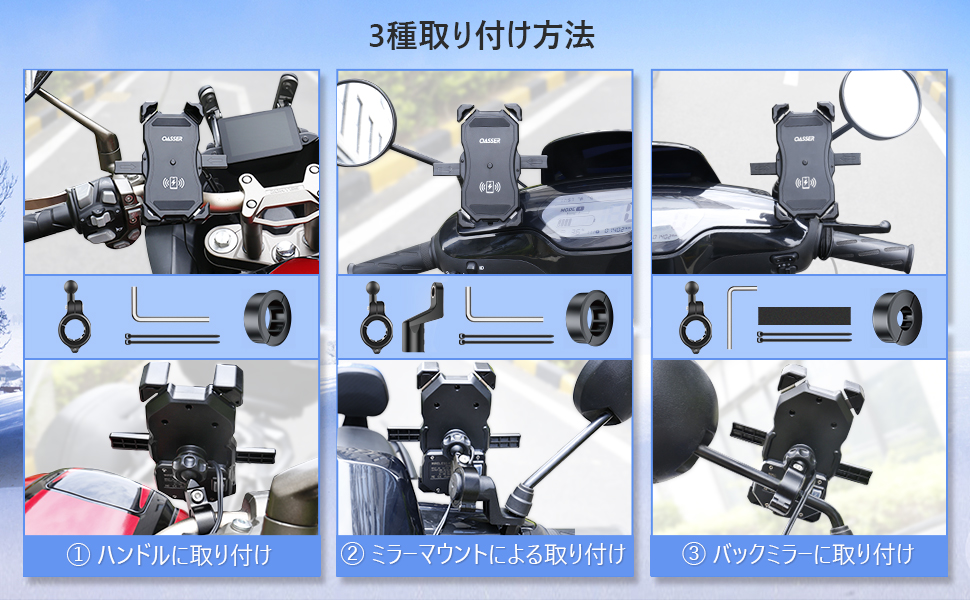 Easy DIY installation
1. Attaches to the handle
Choose the appropriate position and inner diameter adjustment ring.Tighten the screws with a hex wrench.Hook the retaining ring onto the ball of the bar mount.Apply a little force and insert the ball into the hole on the back of the body.Adjust the angle to tighten the fixing ring.
2. Installation with a mirror mount.
Remove the rearview mirror, place the mirror mount and put the rearview mirror back into place.Connect the bar mount to the mirror mount.(Use the adjustment ring with an inner diameter of 0.9 inches (22 mm). )
3. Mount to the rear view mirror.
12.7mm inner diameter adjustment ring secures bar mount(If it is too thin, please try with the included rubber mat. )