Description
Oasser Motorcycle Disc Lock Alarm works by locking the disc brake, which helps to stop the movement of vehicles and keep the safety of vehicle.
New disc brake lock in 2021! We investigated many similar products, found the problems of customer feedback in them, and optimized them. Developed this product, which is your best choice.
304 stainless steel material, sturdy and durable

Built-in sensitive sensor that detect any shocks and movements

With 120 dB alarm sound, loud to scare away thieves

IP66 Waterproof Protection, safe and reliable waterproof protection

CR2 Detachable lithium battery with large capacity for long-term use and more stable performance

One-press operation, easy to use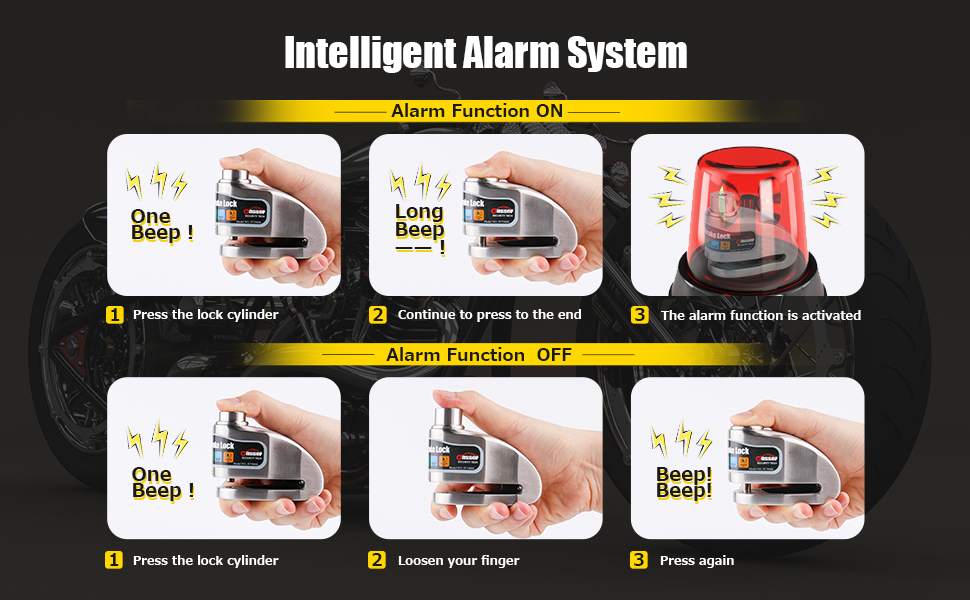 No need a key, easy to lock with one-press operation.
When the alarm function is activated, please note that if the lock body gets vibration, this product will send out three warning sounds first.
If the vibration keeps up, this product will send out a harsh 120 decibels alarm sound, lasting for about 10 seconds.
If the shaking stops, it will not sound any more; if the shaking keeps going on, it will continue making an alarm sounds.
Start The Non-Alarm Mode (Switch To Silent Mode)
If you reach a safe place or if you're worried about the alarm going off wrong due to the wind or rain, you can manually turn off this alarm disc lock into silent mode.
Battery Replacement
800mAh capacity lithium battery, standby time up to 6-12 months.
When the lock emits the low voltage alarm "Biu Biu Biu Biu Biu Biu" (5*3 times), it means the battery is about to run out and needs to be replaced.
Use the allen wrench to unscrew the screws, remove the cover and replace the battery.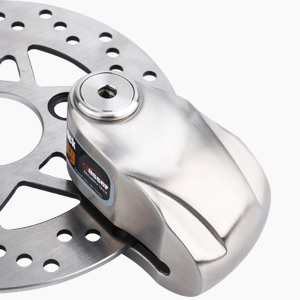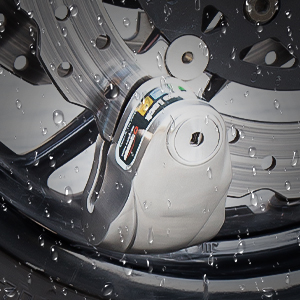 Waterproof and Wide Compatibility
The sealed electronic alarm of IP66 waterproof level is dustproof and waterproof, without fear of wind and rain. The alarm still worked even when it was placed in a container full of water.
Fits for the disc brake:
With thickness not more than 7mm(0.27inch).
With width not more than 50mm(1.9inch).
Its hole diameter should be at least 6mm(0.25inch).