Description

Commented by Austin Fracchia
If your inflation needs are small, and maximum portability is important, a smaller air compressor is required. Coming in with a pocket-sized profile, the Oasser Mini is one of the smallest options available. Long and cylindrical, the compressor is easy to place in a large pocket, emergency bag, or small compartment in a car or on a bike. The motor is powerful enough to handle anything smaller than large truck tires.
Re-charging the battery is simple and flexible. Coming with a home and car adapter, you can re-charge the pump while on the road. Total charge time is around 1.5 hours. To ensure accurate inflation, the visible LCD panel and digital pressure gauge is large and backlit for night use. Operating the inflator is straightforward: Set the desired pressure level and hit the start button.
Questions and Answer
Questions and problems are answered within 24 hours
Email: support-us@oasser.net
Specification
Input voltage:cigarette lighter 12V DC, adaptor 15V DC
Max current: 5A
Rating power:60W
Air flow rate: 13Litres/Min
Max pressure:150PSI
Operation temperature:-20°~+60°
Size:1.8×2.2×7.8inches
Weight:1 pounds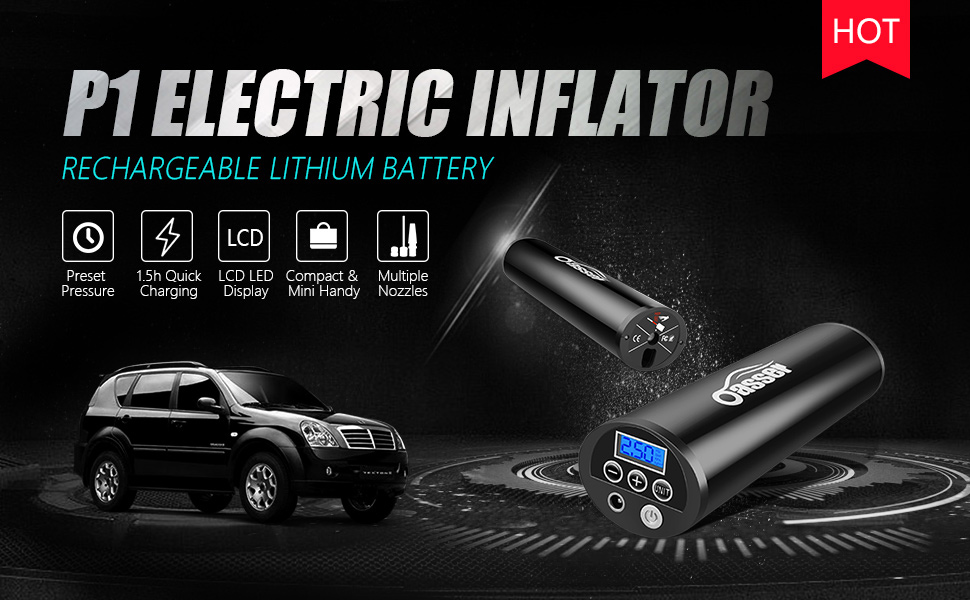 Oasser Mini Air Inflator Portable Air Compressor with Digital LCD LED Light Li-ion 12V 150PSI for Car Bicycle RV and Other Inflatables P1
Characteristic
a. Rechargeable Powerful tire inflator, support home and car charging
b. Quick and easy to use, fast charging
c. Compact, portable, lightweight and mini design.
d. Come with different nozzles and adaptors that fits the car/bicycle tires/basketballs/inflatable toys/ small swimming ring,etc.
Built-in lithium battery
Max Inflatable Pressure
Presetting Pressure
LED Digital Display
Mini & Portable
3 Switchable Units
Multiple Accessories
Get one Oasser Mini Air Inflator, get a full pressure tire!
Built-in Lithium Battery, the rechargeable electric pump can be inflated for emergency. It supports AC DC Adapter at home 110V & 12V Cigar Lighter.
1.5 hours fast charging, the battery in the full charging could inflate an empty tire
When the preset pressure is reached, the inflatorwill stop inflating automatically.
How to use the mini air inflator air compressor
Please connect one end of air tube to inflator and plug the other end of it to tyre valve core (Screw the tube into screw hole on the bottom of the inflator.)
Press "UNIT" button to set pressure in PSI, BAR, KPA or kg/cm² on the activated screen.
Please press "+" & "-" to set the desired pressure.
Press "-" and "+" to preset the pressure value, then press "UNIT" to confirm.
Press "Power" to inflate.
Press "Power" to power off (if you don't want the preset pressure).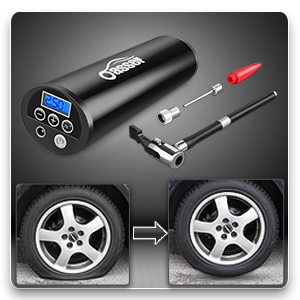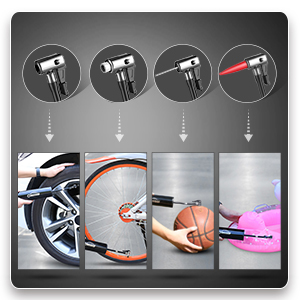 Multifunction
Inflate your bicycle tires
1- Not only for your car tires but also suitable for the bicycle tires
2- We provide the extra French Switch Nozzle for you in case of need
Air tube is for Car tires
Ball Needle is for various balls and the toys
Toy Nozzle is for inflatable toys and swimming rings
Presta Valve connects to the air hose/tube to inflate the road mountain bike tire
Note
It is recommended to charge the battery every half a month if it is not applicable.
Don't connect wall charger when pumping, which will damage the pump.
We advise to connect the car charger cigarette while pumping that can achieve your desired PSI
It is advisable to cool down the pump for 10 minutes after continuous use for 5-10 minutes.
Kinds of nozzles that you can inflate your balls and other inflatables easily.
For Car/Bicycle tires
For Basketball/Football
For Swimming Rings
For any inflatable toys
Not available for items: vans, coaches, motor homes, air mattress.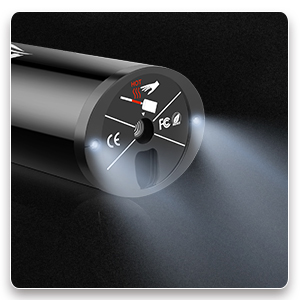 LED Light
Bright LED light: 2 LED lights for emergency lighting. You can see the whole inflating process and know the status of the tires in the dark
How to make it work: Just press the "Power" button to turn it on and press the "power" button again to turn off the led light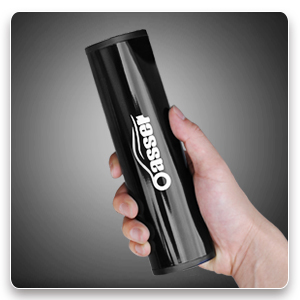 Mini Compact
Intelligent Design
Which make the inflatable pump mini compact size for most of people use, great handheld feeling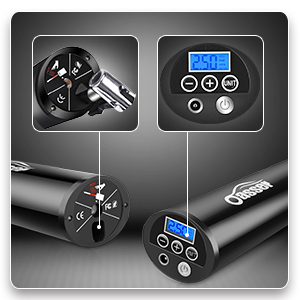 Backlight LCD
You can store the air tube on the hole near the screw.
The digital LCD light is bright enough that you can see the exact reading and switch the value units: PSI, BAR, kg/cm2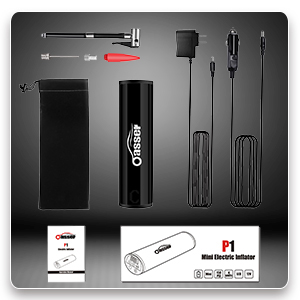 Package
1×Mini Air Inflator;
1×Home Charger (AC); 1×Car Charger;
1×Air Hose/Tube; 1×Ball needle; 1×French Switch; 1×Swimming Rings Adaptor;
1×User Manual;
1×Hand Bag