Description

Oasser Air Compressor Electric Inflator Portable Hand Held Pump with Digital LCD Rechargeable Li-ion 12V 130PSI P2
The tire pressure of your car is lost as time goes by.
Tire pressure varies with temperature.
Low pressure leads to increase of fuel consumption.
Oasser P2 Rechargeable Digital Electric Pump will solve the above perplexities of yours!
Automatic cordless tire inflator
Quick and easy to use
Powerful air compressor
Fits any air valve
Compact, lightweight design
It's a great little air pump and excellent for keeping the proper air pressure in your automobile tires.
Battery Pack included
Max Inflatable Pressure
Presetting Pressure
Mini & Portable
3 Switchable Units
Multiple Accessories
Questions and Answer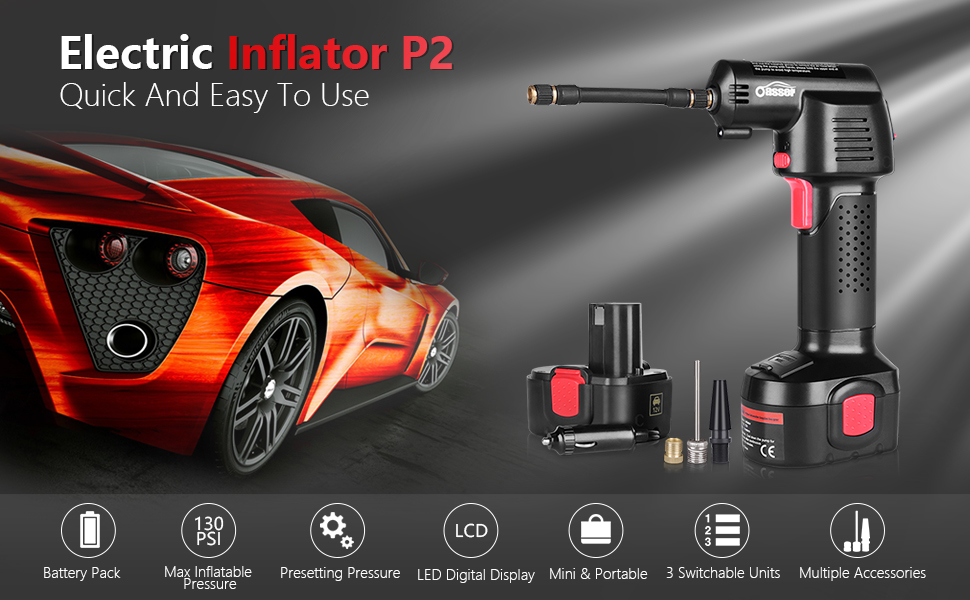 You can preset tire pressure to what the tires need. Digital LCD gauge reads pressure and automatically turns off when it reaches desired pressure.
How to use the air compressor?
Full charge it in advance. Please connect the inflator to the battery pack or the 12V DC power
Choose the suitable trachea and rotate air hose into the inflator
Press "UNIT" middle button to active display.
Press the "UNIT" button to switch the value units: PSI, BAR, kg/cm2
Press "-" and "+" to preset the value. After setting, the value in the screen will flash for 4 seconds, which means auto setting is completed (Or you can press the "UNIT" to complete the setting)
Press "Power" button on the handle to inflate.
Press "power"button on the handle to power off. (if you want to stop).
Automatic power off: Oasser inflator has automatic power off setting, it will automatically shut down in 90 seconds without any operation.Or you can just press and hold the middle UNIT button for few seconds to turn it off
In the process of inflating, there will produce the heat that generated by high pressure, please pay attention to preventing burns, it is recommended to operate with our gift gloves.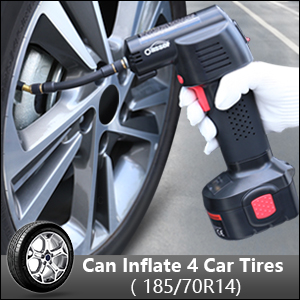 How Many Car Tires You Can Inflate in Full Battery?
Oasser P2 Portable Air compressor
Within 2200mAh Large Battery Capacity, Oasser P2 air compressor can inflate 4 car tires (Tire Size: 185/70R14)
For the Motorcycle, the rechargeable electric compressor can inflate 10 pcs tires
Add one to your cart, you will not regret your choice!
Ways to keep the P2 air compressor(•‿•)
When the battery pack is not connected to the pump, charge the battery individually with the home wall charger.Green light means fully charged.
When connecting the battery pack to the air pump ( Full of four bars status is fully charged.)
When using the air compressor with car charging cable, charge it a little while and then you can inflate the items directly
Tips:
The battery should be charged before and after use, because the Li-lon has long-term self-discharge, which may lead to battery failure.
When requires high PSI, just pump it few times and cool the air compressor down for 10 mins after continuous use for 5-10 mins. We advise to connect the car charger while pumping
If there's no use the battery pack, please remove it from the air pump
Air hose/tube is for the car bicycle tires
Presta Valve connects to the air hose to inflate the road mountain bike tire
Toy Nozzle is for inflatable toys and swimming rings
Ball Needle is for various balls and the toys
Not available for vans, coaches, motor homes, air mattress.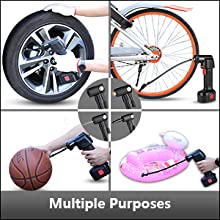 For many situactions
How Many Bicycle Tires You Can Inflate in Full Battery?
Within 2200mAh Large Battery Capacity, Oasser P2 air compressor can inflate 25 pcs bicycle tires
It can also inflate car/SUV/RV tires, bikes/bicycle tires, infatable toys,sports equipment & more!
Different inflable items require different inflating adpaters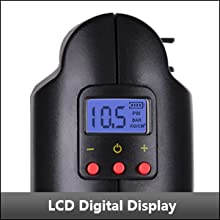 Larger Digital Display
Battery Power Display, Digital LED Tire Gauge
3 kinds of Unit Values: PSI, BAR and Kg/cm²
Build-in LED Light with bright and long-lasting lights, which is easy and suitable in night use.
Press the middle button to turn off the air compressor and the LED light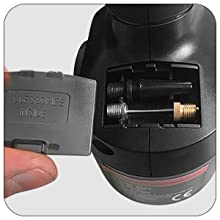 The additional nozzles
Dear missed accessories customers, please kindly find this place, the type of connectors are under the lid.
Ball Needle
Presta Valve
And others
Different inflable items require different inflating adpaters.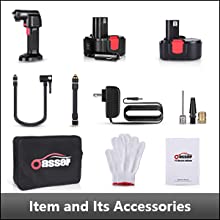 Package
1×Air Compressor
1×User Manual
1×Home Charger; Car Charger
1×2200mAh battery pack
1×Storage Bag; Glove Pack
1×Accessories: Presta Valve; Ball Needle; Toy Nozzle
1×Short air hose 4.72inch; Long air tube 13.78inch