Description

Always Make Sure Your Tires Are Inflated
Under-inflated tires are one of the reasons behind majority of accidents. Other than causing road accidents, poorly inflated tires get hotter, wear faster, waste fuel and also impact the car's braking and handling. Ensuring that car tires are properly inflated is vital to each driver. Tire pressure should be checked at least once a month and always before starting on a long trip. A tire inflator with gauge makes this task reality.
Protecting Your Tires with Oasser Tire Inflator with Gauge
Built with a sturdy rubber hose, heavy-duty air chuck and an LCD display with backlight, Oasser tire pressure gauge inflator gives simple access to monitor and read your car tire pressure. It gauges the pressure at a precision of ±1PSI and ranges from 0 to 255 PSI, shifting between 4 measurement units. Inflator trigger and bleeder valve are at present, to inflate the tire and deflate it as well.
Every Oasser package includes a tire inflator gauge, dual head air chuck, brass air chuck, air hose, 1/4″ NPT Steel Fitting to make this an all-in-one gadget. It features high quality, durable stainless steel body with brass components for a long-lasting performance.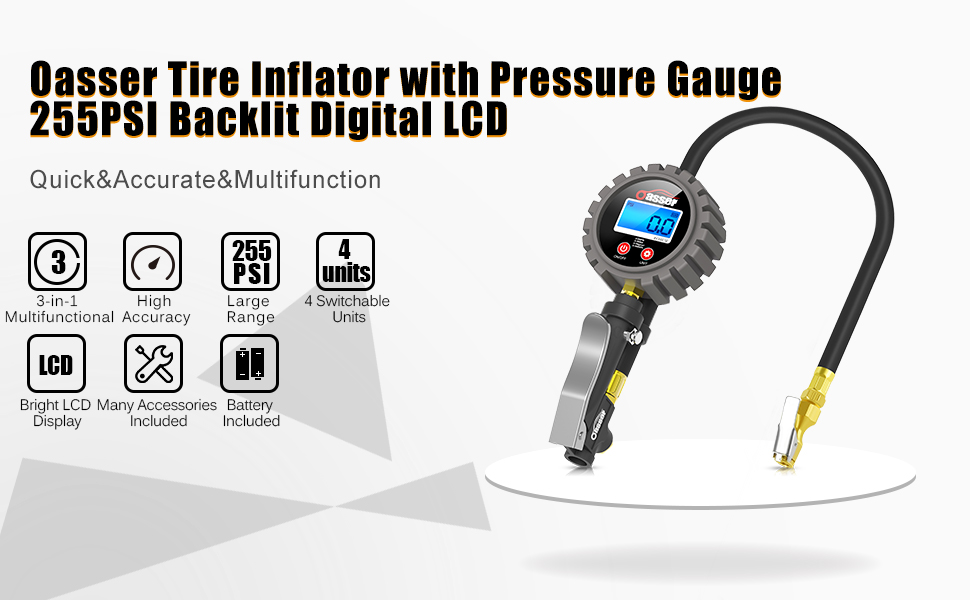 Oasser Tire Inflator with Gauge Tire Pressure Gauge P5
3-in-1 Digital Tire Inflator/Deflator/Pressure Gauge
Wide range of 0 to 255PSI
4 measurement units PSI, BAR, KG/CM², KPA
Highly reliable at a precision of ±1PSI
Large backlit LCD digital readout
Automatic shut off after 15 seconds
Built from premium heavy duty components
Easy-to-install AAA batteries(included)
Surrounded by a rubber cover, protecting from drops and easy to grip
Multiple accessories-straight lock on, dual foot lock on, 1/4" NPT Male Connector
Versatile for cars, bikes, motorcycles, or trucks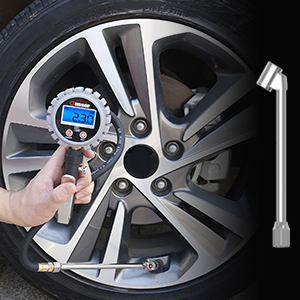 Check Pressure
Unscrew the knob, and apply the tip of the pressure checker to your tire pressure escape valve. If you hear the sound of air escaping, like a faint whistle, then you're doing it right. Losing a tiny bit of air from applying/removing your gauge isn't going to mess with your tire pressure all too much, so don't worry.
Check it cold: The tires get cold enough after at least three hours of parking or if you've been driving for maximum a mile at moderate speed.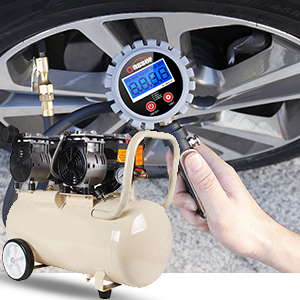 Add Air
Connect the air compressor to inflate car tires, bicycle tires or other equipment. Squeeze the inflation trigger to add air, and monitor the pressure from the LCD display.
Note: Make sure your air compressor is compatible with 1/4″ NPT quick-connect male fitting.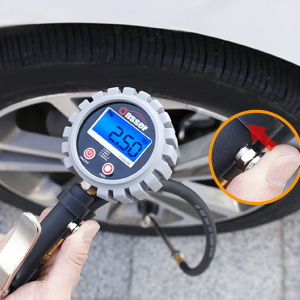 Deflate Tires
If your tires are overinflated, press the air bleeder valve to drain excessive air pressure.
Note: Don't count on the tire pressure tested during deflating. After deflating, the static tire pressure is the current pressure.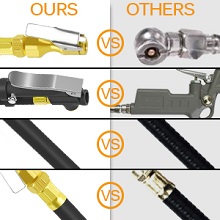 Superior Construction
Brass lock on chuck can be reused over 800,000 times
Widened stainless steel trigger offers more comfortable grip and durability
Thick rubber air hose can endure 800PSI
Good leakproofness: built with heavy duty fitting to improve the sealing performance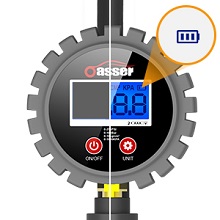 User-friendly Design
Bright LCD with clear readings: The tire inflator gauge can be used in the dark without any hassle.
Auto-off: It shuts off automatically in 15 seconds without any operation for battery saving.
Low-battery indicator reminds you when to replace the battery.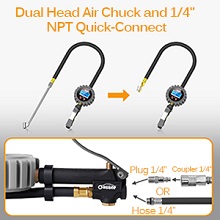 Multipurpose
Lock on air chuck: brass construction makes it easy to lock onto stem valves.
Dual foot air chuck: use it on trucks and Rv with dually tires
1/4" NPT quick connect male fitting: Compatible with 1/4" NPT air compressors output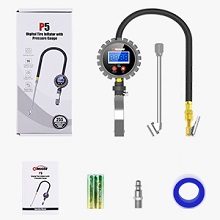 Package
1 x Tire Inflator with Pressure Gauge
1 x Dual Head Air Chuck
1 x Brass Air Chuck
1 x 1/4″ NPT Steel Fitting
1 x Thread Seal Tape Roll
2 x AAA Batteries
1 x Manual
1 x Packing Box