Description

Oasser P5-A Tire Inflator Gauge is integrated tire pressure monitoring, inflation and deflation 3 functions.
Stable tire pressure can reduce ground friction thus enhancing the life span of tires, and more importantly, improve your driving safety.
Safe and reliable choice. Durable and practical investment.
Leave your worries behind and travel in security.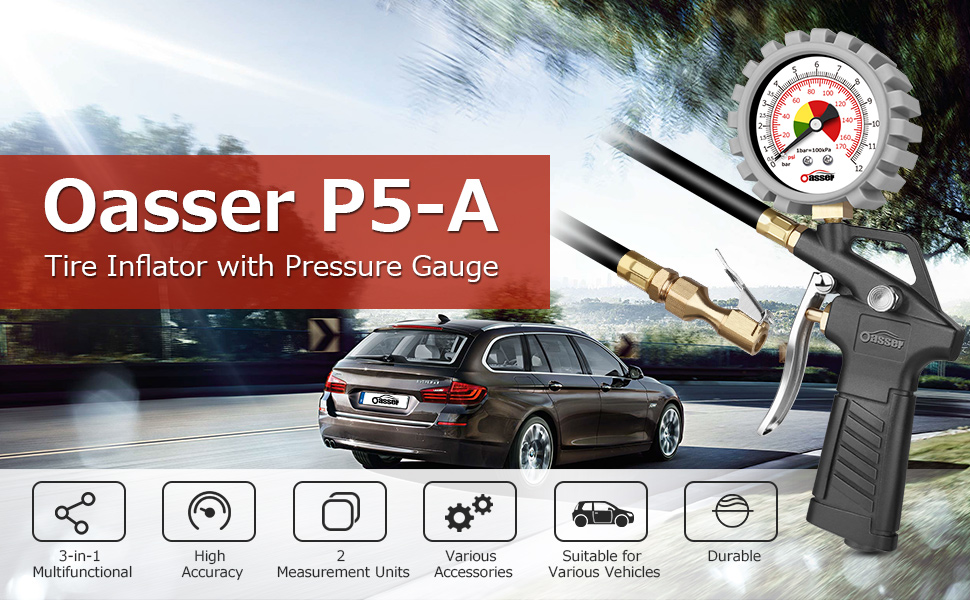 Oasser P5-A Tire Inflator with Pressure Gauge, A Newly-designed Useful Tool for Your Cars!
Why Choose The P5-A tire pressure inflator?
The tire inflator gauge is the best choice for drivers and athletes. This inflator achieves pressure range up to 170PSI (12BAR), suitable for cars, motorcycles, bicycles, etc.
Mechanical Gauge no batteries required, 0-170PSI range, highly reliable at a precision of ±1.6%
3-in-1 tire pressure gauge/ tire inflator/ tire deflator
2 measurement units: PSI, Bar.
Integrated bleed button, durable steel and brass casing
Thick rubber cover, reinforced rubber hose
Ergonomic handle and trigger, easy to operate
Protecting Your Tires with Oasser Air Tire Inflator Pressure Gauge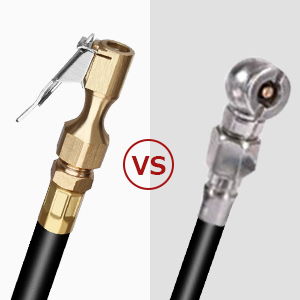 Superior Construction
High quality, heavy-duty steel and brass components provide lasting performance – Strong, sturdy & durable.
Upgraded heavy duty brass air chuck makes it easier to lock onto stem valves – No more air leaks
Highly Reliable
3 inches large dial make precise readings up to 170PSI with accuracy of ±1.6% to maintaining the right tire pressure – make for smoother, superior vehicle performance
2 measurement units PSI, Bar are available for people to choose proper tire pressure – make your tires to last longer
User-friendly Design
The ergonomically designed handle and trigger give you comfortable grip – easy and convenient to contral
Simply press the handle of tire inflator gauge down to fill the tire and then release the handle to stop filling – do it by yourself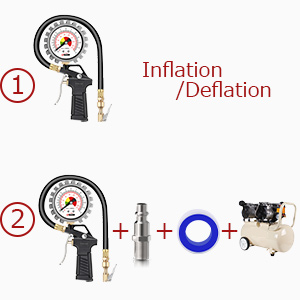 Multiple Functions
Instead of filling a tire, check the pressure, adjusting, checking, and repeating over and over again – simply fill the tire to the exact pressure
Simply press the handle of the tire inflator gauge down, the tire will be inflated to the exact pressure you need on your first try – simple and speed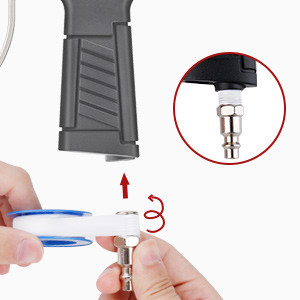 Highly Compatible
Compatible with 1/4" NPT steel quick-connect fitting. Can be applied to car, motorcycle, bicycle etc.
Note: Make sure your air compressor is compatible with 1/4″ NPT quick-connect male fitting.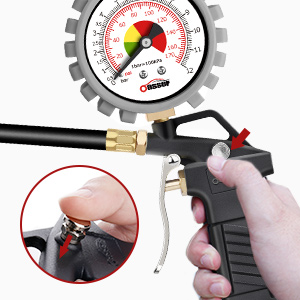 Increased Safety
Check pressure instantaneously by releasing the air trigger. No need to worry about overinflating a tire!
Note: Don't count on the tire pressure tested during deflating. After deflating, the static tire pressure is the current pressure.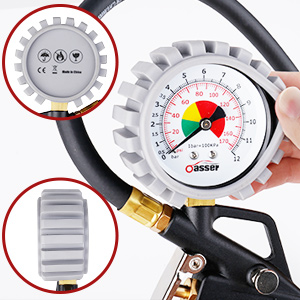 Strengthen Protection
The large 3 inches dial is surrounded by a rubber cover, protecting from drops.
No batteries required (Mechanical Gauge)
Note: Don't break down it, it will be a great choice for those who are looking for something reliable and long lasting.