Description
UPC:788000055892

Oasser Air Compressor Portable Mini Air Inflator Hand Held Tire Pump 2000mAh with Digital LCD LED Light 12V AC DC Lithium Battery 120PSI 20Litres/Min for Car Bicycle Tires and Other Inflatables P1S
The tire pressure of your car is lost as time goes by.
Tire pressure varies with temperature.
Low pressure leads to increase of fuel consumption.
Oasser P1S Rechargeable air compressor will solve the above perplexities of yours!
Specification
Product model: P1S
Input voltage: Charger DC 14V/2000mA
Home voltage: AC 110-240V
Working voltage: DC 12V
Power consumption: ≤120W
Battery capacity: 2000mAh
Inflation efficiency: 185/70R14 (6 minutes)
Inflation pressure: 120PSI(Max)
Pressure units: PSI, BAR, KG/CM2
Outer air hose length: 1.4 ±0.4inch
Power cord length: 3m
Working temperature: 0°C~60°C
Size: 5.5*4.8*23.5cm (2.2*1.9*9.3inch)
Weight: 600g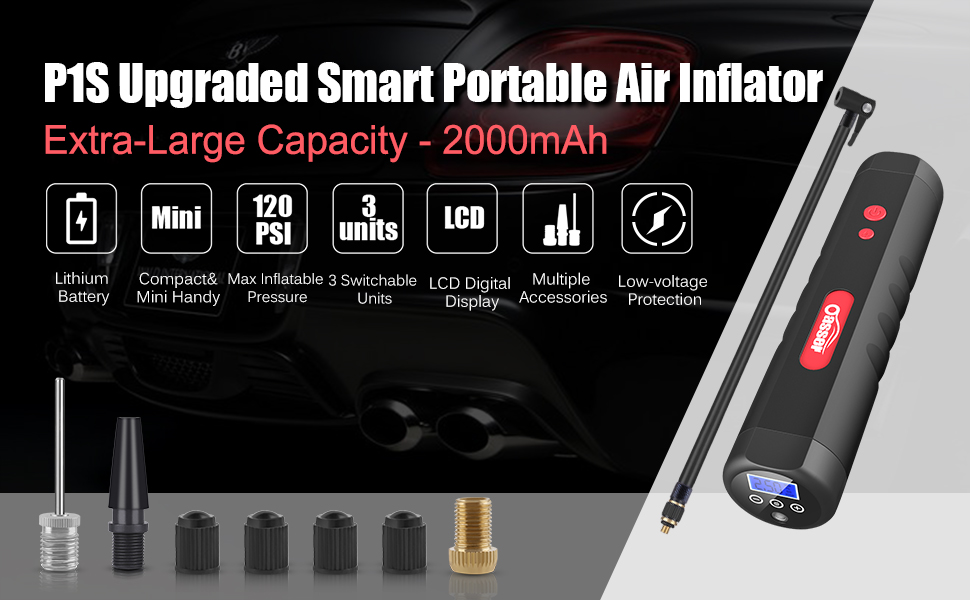 P1S Upgraded Smart Portable Air Inflator with Extra-Large Capacity 2000mAh
Characteristic
Built-in 2000mAh Lithium Battery extra-Large capacity
Cordless air compressor to pump items, safety and convenience
Digital LCD pressure gauge, come with 0.120psi, accurate pressure preset available
Super Bright LED Flashlight AND 3 optional units as PSI, BAR, KPA, Kg / cm²
Our pump is suitable for bicycles, motorcycles, Lawn mower tires, small and medium cars including SUV but do not support big truck tires, Van, bus, RV
Extra Characteristic
a. Rechargeable Powerful tire inflator, support home and car charging
b. Quick and easy to use, fast charging
c. Compact, portable,lightweight and mini design.
d. Come with different nozzles and adaptors that fits the car/bicycle tires/basketballs/inflatable toys/ small swimming ring
Oasser P1S Air Compressor Portable Mini Air Inflator 2000mAh with Digital LED 12V AC DC Lithium Battery 120PSI 20Litres/Min for Car Bicycle Tires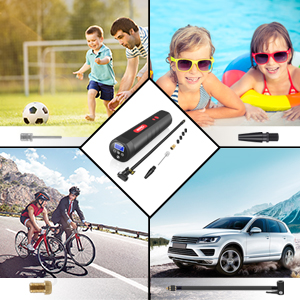 Available for multiple kinds of Car Bicycle Tires and Other Inflatables
Comes with various accessories
Comes with different nozzles and adaptors that fits the car/bicycle tires/basketballs/inflatable toys/ small swimming ring
For different inflatables
For the car tires, Oasser P1S air compressor can inflate 3 car tires (Tire Size: 185/70R14)
For the Motorcycle, the rechargeable P1S electric compressor can inflate 8 pcs tires
For Bicycle, Oasser Mini air inflator can inflate 20 pcs bicycle tires
How to use different accessories
Instruction
Long air tube is for car motorcy tires and normal bicycle tires tires
Ball Needle is for various balls and the toys
Toy Nozzle is for inflatable toys and swimming rings
Ball Needle is for various balls and the toys
Presta Valve connects to the air hose to inflate the road mountain bike tire
4 Valve Caps are for the spare parts
The p1s air inflator can not be available for:
Available for Car/SUV/RV tires, bikes/bicycle tires, balls, sports equipment, swimming rings infatable toys
Not available for vans, coaches, motor homes, air mattress.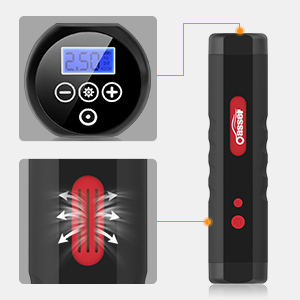 Multifunctional Purposes
LCD Display
LCD digital pressure gauge with backlightWith 3 optional units as PSI, BAR, KPA, Kg / cm². You can preset tire pressure to what the tire needs and test the tire pressure at any time. The air pump will automatically stop inflating when the inflation reaches the preset value which can be avoid over inflating
Good cooling system
This design is a good cooling system so as to prevent overheat.Insulated Silicome ProtectionComfortable GripAnti-scalding
Mini compact
Mini electric inflatable pumpThe size is only 9.6*2.2inch, which is the smallest portable inflatable pump,but achieve the best hand-held feel
The best way to make a long time use of the pump
It is recommended to charge the battery every half a month if it is not applicable.
It is not recommended to connect wall charger when pumping, which will damage the pump.
We advise to connect the car charger cigarette while pumping that can achieve your desired PSI
It is advisable to cool down the pump for 10 minutes after continuous use for 5-10 minutes.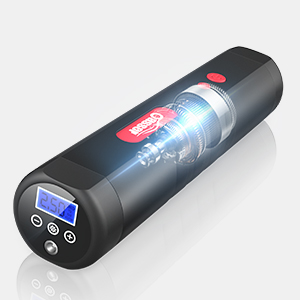 Low voltage protection
Built-in battery protection device. When the voltage is too low, it will automatically cut off the power and the battery will not be over discharged during a long time placing.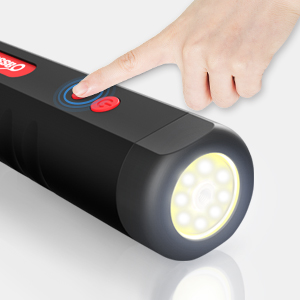 Super Bright LED Flashlight
8 LED Light Beads can be controlled by the independent switch to provide you with convenient for emergency lighting at night. And the LCD digital display with backlight, which is easy to read the digital even pumping during night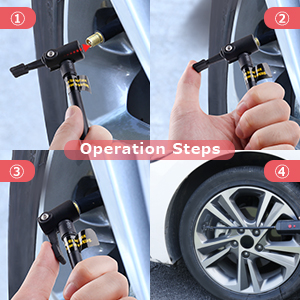 Operation Steps
Please connect one end of air tube to inflator and plug the other end of it to tyre valve core (Screw the tube into screw hole on the bottom of the inflator.), ensure there is no air leak and then pressed the buckle tightly.
Press "Setting " button to active display. Set pressure in PSI, BAR, KPA or kg/cm² on the activated screen.
Press【+】or【-】 button to preset pressure and press the Power button to inflate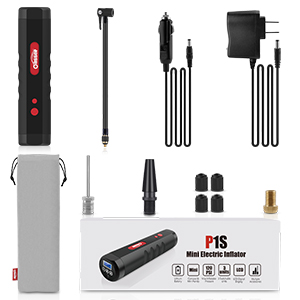 Package comes with
1×P1S Inflator, 1×Long Air hose
1×Car Charger, 1×Home Charger
1×Ball Needle, 1×Toy Nozzle
1×Presta Valve, 4×Valve Caps
1×Storage Bag, 1×User Manual