Description

Whether you are dropping your kids at school, going for quick grocery pickups or have a business meeting, all of these daily chores require you to store a few things in your vehicle. Now, the only problem with this is that things can get pretty cluttered back there and can resemble a disaster zone.
Are you sick and tired of all the spills and mess that tends to creep up into the trunk of your car? Nothing is more annoying than hearing the sound of all the groceries toppling out in the trunk while you're on the go. If that's the case, you need the Oasser Trunk Organizer!
Oasser trunk organizer has 3 spacious main compartments to accommodate all sorts of accessories with ease. Exterior 4 mesh pockets and flap pocket serve to keep smaller items. Now you don't have to dig through a ton of stuff to find where they're been buried. And when you don't need the organizer, you can just retrofit it as a bag for storage.
Built from a high-grade 1680D Oxford cloth, incredibly strong sidewalls and base plates, Oasser trunk organizer can withstand most abrasions and maintain its sturdy structure, no problem!
A clean car is a happy car! So don't wait, get Oasser trunk organizer and start to organizing!
Oasser Trunk Organizer Cargo Organizer Trunk Storage Organizer E3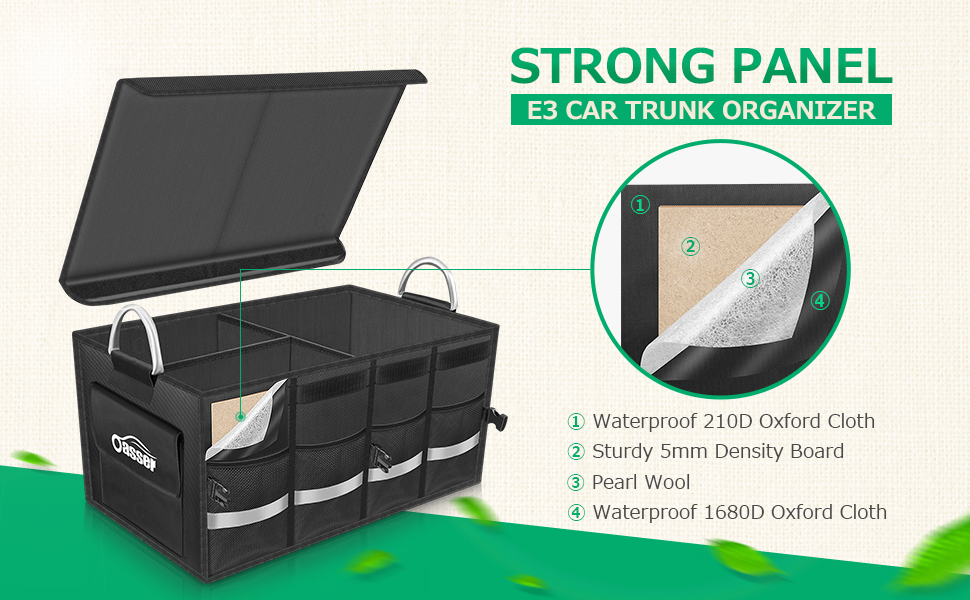 Specifications
Material: High-quality 1680D Oxford Cloth
Panel: 5mm Density Board, super rigid to maintain reliable shape.
Extended Size: 23.6″(L)*13.78″(W)*11.8″(H) (60cm*35cm*30cm)
Folded Size: 3.54(L)"*13.78″(W)*11.8″(H) (9cm*35cm*30cm)
Color: Black
Weight: 6.7 pounds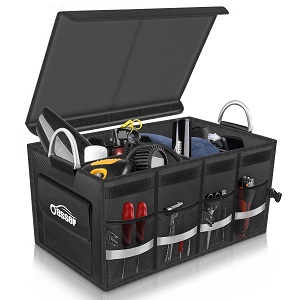 Multi-storage makes your car trunk clean and tidy
3 main compartments: Storing sporting equipment, groceries, toys, survival kits.
4 side mesh pockets: give extra space for small stuff, like towel, books, maps, small hardware.
1 flap pocket: Secure bits and pieces for easy access.
Fits great in the boot of almost any car, truck, vehicle, SUV, van, etc.
Outstanding Features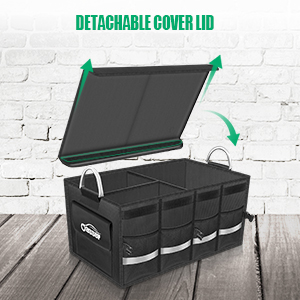 Top Cover Lid
Ever wanted to hide the items in your trunk from the prying eyes of people? Then you need the organizer from Oasser, which comes with a top cover. The cover, with stiff board inside, is so sturdy that you can also put stuffs on it.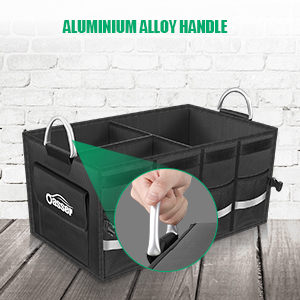 Rugged Aluminium Alloy Handle
The metal handles are more durable and comfortable to hold vs nylon or straps, making it easy to grip and move around.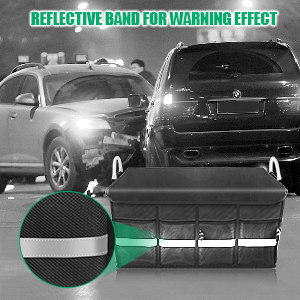 White Reflective Strip
The presence of reflective strip on the outside makes it safer and handy, especially when moving things in the dark around a campsite or RV park.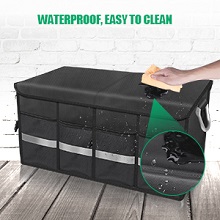 Water Resistant
The car trunk organizer, made of high-quality 1680D Oxford polyester, is waterproof and easy to wipe clean with wet cloth.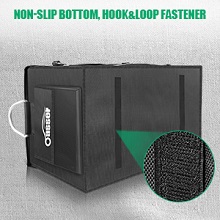 Non-slip Bottom
There are two non-slip hook&loop fasteners underneath the trunk organizer to keep it in place – no sliding, tipping or spilling, even with your crazy driving!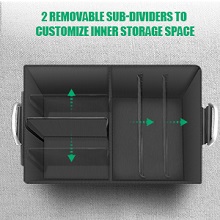 Compartment Customization
With 2 removable sub-dividers, the inside of the cargo organizer can be reformatted in a variety of ways to fit both small and larger items.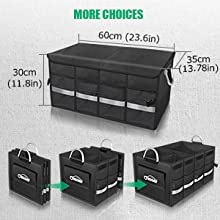 Foldable and Versatile
Middle set of buckles permits folding at half length for small jobs, or folds down flat when not in use. It is not mandatory to place it in the trunk alone. You can keep it in the front seat or back seat. Can also be used for grocery tirp or even if you go out on a picnic or to the beach.